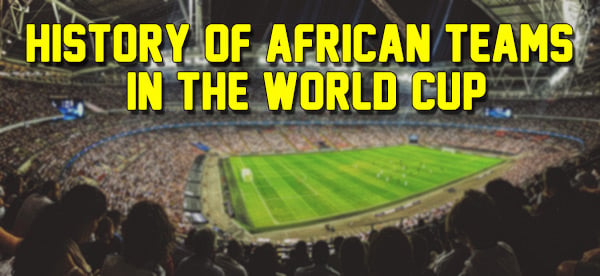 In the 1990s and 2000s, Cameroon and Senegal were able to reach the quarter finals, the furthest advancement of any African team in the World Cup. Africa really got the recognition it deserved with great performances that influenced FIFA to allocate more spots over time. If teams were unsuccessful and never made it past the first round, it's hard to say what the presence of African football teams would be in the World Cup. Would other regions/continents around the world be given extra spots over Africa? Oh well at least we don't have to worry about that!
Black Stars Make Africa Proud
Football had already spread all across the continent of Africa and nearly every single nation was trying to qualify for the World Cup. Out of 51 countries, 5 countries would advance on to the 2006 World Cup, which was being held in Germany. The qualification process was much more drawn out as all the teams that qualified this time around play double the amount of qualifying matches compared to 2002.
Four African teams made their World Cup debut in 2006 - Côte d'Ivoire, Ghana, Angola and Togo. Togo managed to qualify in their group over previous quarter finalists, Senegal. When they got to the World Cup, there was a dispute over team bonuses where the coach abandoned the team before the very first match. The rest of team almost did the same thing but FIFA officials forced them to play. Needless to say, they didn't do so well and lost all 3 games in their group. During qualification, Côte d'Ivoire (Ivory Coast) oddly lost both of their matches to Cameroon however advanced to the World Cup since Cameroon had too many matches that resulted in a draw. The team managed to comeback and win one match against Serbia and Montenegro.
Video highlights from Côte d'Ivoire's comeback victory
Tunisia barely got by an undefeated Morocco team to make it to the World Cup. The only reason they qualified is Morocco drew half of their matches. At the World Cup, Tunisia drew one match and lost the other two. Nigeria performed very well in the qualification stage with a massive goal difference against Angola and Zimbabwe. However, Angola earned the World Cup spot in the group with a tough 2-1 tie breaker victory. At the World Cup, they lost one match (Portugal) and then drew the other two (Mexico and Iran). They were the only African team with a local coach, Luis Oliveira Gonçalves.
Ghana was only one African team to advance past the first round. They qualified for the World Cup with a leeway of five points in their group. Their first match was a tough one against Italy, who became World Cup champions. They rallied back with 2 wins against Czech Republic and the U.S to proceed to the Round of 16, being the sixth African team to do so. In the next round, the squared up against Brazil and lost 0-3. Despite giving the Brazilians a tough match, there were accusations that the match had been fixed. There's no evidence to back up this claim, and it was also denied by the GFA (Ghana Football Association). Ghana and the Black Stars certainly made Africa proud in their World Cup debut.
Fan-made video compilation of Ghana's 2006 World Cup Highlights
First World Cup Hosted in Africa
The 2010 World Cup was the first time the tournament was hosted in Africa. There were plenty of naysayers who predicted the event would be unsuccessful in hosting a major international event. They were all completely wrong! It's estimated that the South African government spent over £2.4bn on six new stadiums along with road and airport upgrades. The government claimed there was a 38bn rand boost for the economy and around 130,000 new jobs, which were mainly temporary construction.
This was also the very first time 6 African teams made a World Cup appearance with South Africa automatically securing a spot. It was sad to see South Africa knocked out in the first round along. They became the first World Cup host team failing to make it past the first round. Many other African teams followed the same path. Nigeria, Algeria, Côte d'Ivoire (Ivory Coast) and Cameroon also were eliminated in the first round.
Ghana was the only team to advance to the Round of 16, which also marked their second time doing so. In the next round, they were able to defeat the U.S. 2-1 to advance to the Quarter Finals; the game was an epic they went to extra time. Next up, they would face Uruguay in very close match. With the game in extra time, a handball penalty by the Uruguayan team robbed Ghana of a winning goal. With immense pressure, Asamoah Gyan missed on the penalty and were later defeated. They were so close to make it to the Semi Finals, which would have been the farthest any African team has advanced in World Cup history. Nonetheless, they still became the third African team to make it to the Quarter Finals which is a massive achievement for African football. Ghana were certainly on fire in 2010 and FIFA ranked them 7th in the world. GO BLACK STARS!
Ghana's epic Round of 16 match with the U.S.
Eagles and Warriors Reach Round of 16
The 2014 World Cup was held in Brazil and had appearances from the following African teams - Ghana, Cameroon, Côte d'Ivoire (Ivory Coast), Algeria and Nigeria. Cameroon and Côte d'Ivoire really struggled with their performances. Ghana and the Black Stars were expected to come back strong again, matching their Quarter Final advancement and high hopes to surpass this. They ended up falling short apart from their draw with Germany, who became the World Cup champions. While Ghana did not defeat them, they were they only team in the tournament that did not lose to them. It was a good effort but they need to string together more consistent performances to make it further along in the tournament. Standout Ghanaian striker Asamoah Gyan made history as Africa's all-time leading scorer at the World Cup with 6 goals that were spread out between three World Cups. He managed to past Cameroon legend Roger Milla who had held the previous record with five goals.
Algeria and Nigeria would not let down Africa and would become the first time two African teams made it to the Round of 16. In the second round, both teams had to face some of the best teams and ultimately fall short. Algeria and the Desert Warriors were eliminated by Germany and Nigeria and the Super Eagles were eliminated by France. With more African presence past the first round, fans knew there were plenty of chances in the future to make history by making it to the end and possibly becoming World Cup champions.
Nigeria's hard fought match with Argentina
Algeria's amazing effort against Germany
Well that's it! We have covered all the history of World Cup and it's safe to say Ghana holds the most prestigious accolades in Part 3 by making it to the Quarter Finals in 2010 and possessing the top World Cup scorer in Asamoah Gyan.
It's a shame Ghana won't be making a 2018 World Cup appearance in Russia. However, there's still hope with Nigeria, Morocco, Senegal, Tunisia and Egypt. Maybe 2018 is the breakthrough year for African football. Who do you think will have the best 2018 performance? Let us know by leaving a comment!