Ethio Telecom just made this year better by extending the 50% Bonus Promotion until February 2021.
What's the ETHIOTELECOM ETHIOPIA – X1.5 BONUS?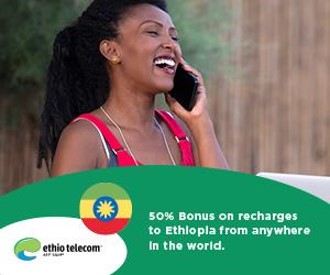 For example, if you recharge 50 ETB for your loved ones in Ethiopia the recipient will get 75 ETB.
Ethio Telecom has been applying a 50% bonus on all mobile top-ups from abroad since January 2020. An initiative that has helped locals by having direct access to mobile credits during the Covid-19 lockdown and most importantly, keeping in touch with loved ones. The x1.5 Bonus is available for ALL denominations, applied instantly after top-up, available for all regions and is valid for 15 days.
What's an international mobile top up?
The ability to send mobile credits to your family and friends in other countries or even here in the US. This allows them to surf the web, send messages, make calls, and all the options provided by their local carriers.
How can you redeem the offer with Mobile Recharge?
Go to our webpage: https://www.joinvip.com/intouch/ethiopia_airtime/
Enter the destination number
Chose the amount you would like to send (amounts range from 25-2000 ETB)
Enter your personal details: phone number, email, and name (no contracts or hidden fees)
Enter payment details and get 10% off your first order+ the additional 50% Ethio Telecom's Bonus. We accept Visa or Mastercard
What is Mobile Recharge?
Prefer to speak to someone for assistance?
Our customer service representatives are standing by to assist you! Call us at 1-800-836-5004.